(

heartequals posting in

philedom
May. 6th, 2010
10:13 pm
)
HAY. I am tardy to the party but hopefully this makes up for it. Without further ado:
Some people are Mulderists. Some people are Scullyists. That is all fine and good. I, however, am carrying the flag for someone EVEN BETTER: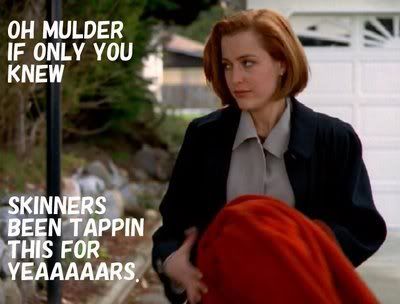 For a long time I was like "psh, Skinner" and then my friend called me up one day and she was all "I've been watching X-Files. Skinner really looks like a porn star."
And all of a sudden
it dawned on me
A.D. WALTER SKINNER IS THE BEST PERSON ON THE FACE OF THIS EARTH.
I mean. I love him. I love him so much. I love his shiny head and I love his blatant exhaustion with Mulder/Scully and their shenanigans, I love that he is the one that Scully tells she is pregnant, I love that he is the one that who goes dark side FOR SCULLY, I love that he was first a weasel and then he changed his mind because Skinner ain't nobody's bitch (outside the bedroom), I love that he's part of the cast after Mulder gets abducted, I love it when he says "AS OF RIGHT NOW I AM RE-OPENING THE X-FILES" and I love it every time he yells at his agents the way I yell at them from my living room couch. They are a pain in his ass and he hates them so much and will fight for them to death AND I LOVE THAT.
Now photos.
THIS FACE IS WHY I WATCH THE X-FILES.
HAY SKINMAN WATS UP
NUTHIN JUST TAKIN A BUBBLEBATH
OKAY I WILL BE IN MY BUNK
OKAY FOXX
BYE
BYE
(there are probably other ways to interpret this scene but I am not aware of them.
Confession: I would read the shit out of Frohike/Skinner. No I do not know why do not ask me about the mysterious matters of the human heart.
Avatar is a great episode. I mean not really but we get to watch him having sex which is fine with me.
BROODIN'
BROOD BABY BROOD. Zero Sum is an actually good episode. Check it out:
FREE ADMISSION FOR ALL
Remember the other time Skinner was shirtless? Remember that was the episode where Krycek was chained to Skinner's apartment balcony? I would read the hell out of Krycek/Skinner too.
Here he is wearing a fucking cardigan oh my god.
swagga of a champion.
But Scully we used protection.
Skinner it is an X-File.
WELL DANA AT LEAST THEY GOT ONE PART OF THE MOVIE RIGHT :D? :D? :D?
Mulder, checkin' out Skinner. GET IT GIRL.
I love Mitch Pileggi a lot too. When he was Grandad Winchester on Supernatural I almost forgave Supernatural for everything it chooses to be.*
*do not get me started on Supernatural and it's X-Files influences. I could go one for years about how Kim Manners is the best person in the world.
He's got the best, sweetest smile *_____* They should really make out.
Speaking of making out, let's talk about Triangle. SCULLY KISSES SKINNER OF HER OWN VOLITION. THIS IS THE BEST THING.
He's even sexy in Nazi uniform, what the hell.
Oh my god Mulder Skinner is really sexy in Nazi uniform.
Oh my god I know Scully come let us find a bunk.
As a side note, I love that Arlene Pileggi is Skinner's secretary. I think she's really good at it too, perfectly sassy and fed-up with those annoying creepy agents who live in the basement, I mean don't they realise that Skinner has actual work outside of them? I also love that Arelene Pileggi was Gillian Anderson's stand-in and also played fake Scully in Fight Club. This is a cosmic message: write me Scully/Skinner.
Skinner we should kiss more
I agree Agent Scully same time tomorrow?
Yes indeed Sir.
But hey, let's not neglect the eighth and ninth seasons. Skinner had some good moments in those seasons.
Would read Doggett/Skinner.
Would not read Reyes/Skinner. WOULD HOWEVER READ THOUSANDS OF STORIES ABOUT MY GIRL IN A BAR WITH MY BOY GETTIN TRASHED AND HAVIN' FUN.
Plus, we can't forget about what the eighth and ninth seasons brought us: Sunshine Days. Sunshine Days is sorta amazing. This is the best scene in the entire series.
WAKE UP IN THE MORNING FEELIN LIKE AD SKINNER
In conclusion, let's hear it for
All screencaps are from
I Still Believe
, all photos from
Big Light Productions
. gif is from the internet.